Pavel Koytchev opened an exhibition at Zornitsa Family Estate Relais & Châteaux
22.06.2020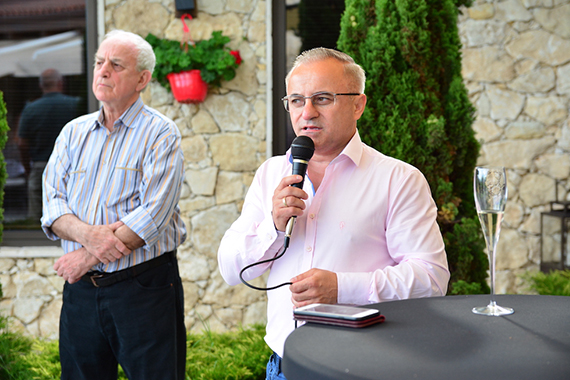 "Sculpture is the simplest thing, but it is also the most difficult to understand. You have to exhibit it outdoors, because space is testing its value and quality". That's what the world-famous sculptor Pavel Koytchev said at the opening of an outdoor exhibition of ten of his works at the Zornitsa Family Estate Relais & Châteaux.
Apart from the famous artist and art connoisseurs, the event was attended by the Mayor of Sandanski Atanas Stoyanov and the Director of the Archaeological Museum – Sandanski Anton Kovachev.
"This exhibition proves that tourism and culture must go hand in hand in order to make a place appealing for visitors. I am glad that this summer the works of Pavel Koytchev will be part of the cultural life of the Municipality of Sandanski ", said Mr. Stoyanov.
This season the guests of Zornitsa Family Estate Relais & Châteaux will have the chance to see ten of Koytchev's works – Sitting Couple, Female Body, On Elbow, Running Man, Dolly the Sheep, Two Torsos, Woman with a Folded Leg, A Bow, God Perun, as well as the unique two eight-meter figures Adam and Eve.
In addition to enjoying the art of Pavel Koychev in the natural environment of the beautiful Melnik region, the attendees at the opening of the exhibition also enjoyed a thematic menu inspired by the work of great artists – from Picasso to Banksy.