Greek dinner at aEstivum
09.10.2023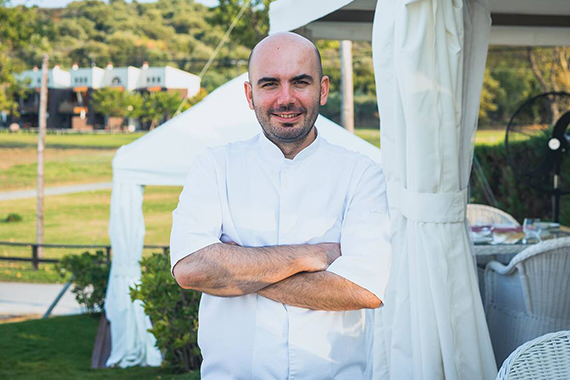 After waving good bye to summer, we decided to make you remember its tastes and vibes in the best possible way – bringing Greece to your table. We chose to do so together with our dear Relais & Châteaux partners from Avaton Luxury Beach Resort – a stylish beachfront escape overlooking the sparkling turquoise waters of Athos Peninsula in Halkidiki.
On November 4th s we'll be honoured to host a dinner at which the Head Chef of Avaton – Panos Papadopoulos will present a fine 5-course menu at aEstivum restaurant.
Being a native of Naousa, famous for its wines and high quality of agricultural production, Panos grew up with authentic flavors and farm-to-table ingredients. Passionate about infusing classics with regional and seasonal flavours, his distinctive touch transforms even the simplest meal into a sophisticated gourmet experience.
For the most eager and curious gourmands, we're sharing the menu for the dinner on November 4th: Beetroot with green apple, hazelnut, goat cheese; Tuna with black truffle, soy, lime; Langoustine with taramasalata, fennel, bisque, bottarga powder; Lamb with potato, Greek yogurt, black garlic, oregano; Kantaifi with mastic, lemon, Aegina pistachio. There will be a vegetarian option and a recommended wines list for the best food pairing.