Blend of natural beauty
Around Zornitza Family Estate Relais & Châteaux your eyes would roam over Slavyanka mountains and the Ali Botush natural reserve, Belasitza and its century-old forests, the magnificent Pirin, Ograzhden, and others. Their depths hide eco trails of varying difficulty, biking tracks, picnic locations, fishing and hunting opportunities. The Estate borders the canyon of the Melnishka river that is lined with dense forests. There is also an eco trail that runs along the bank of the river.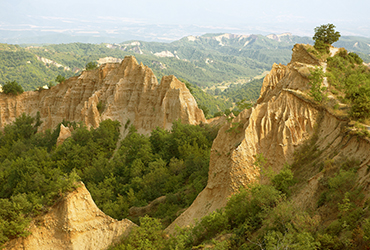 Incredible rock formations spread on an area of 50 sq. km. The pyramids have acquired their present appearance due to the erosion of the clay soil. They are still taking shape and their appearance and form change over time. These enchanting natural sculptures have a variety of contours and shapes resembling rock mushrooms, stacks of hay, minarets, alpine ridges and peaks, swords, obelisks, Egyptian pyramids, Gothic temples etc. This unique natural phenomenon attracts tourists from all over the world.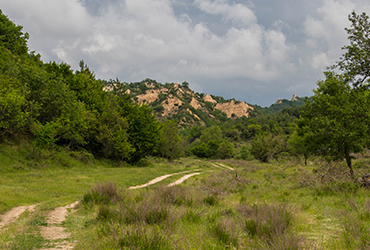 A walking route in the protected area of the Melnik sandstone pyramids that takes about 4 and a half hours. The journey starts from Melnik, it goes to the Rozhen Monastery and from there to Zlatolist village and to the church of Reverend Stoyna. A 1300-year-old Platanus tree rises in the churchyard, which is believed to have magic power. The eco trail is built and fortified with natural materials only, there are stairs, benches, alcoves, fireplaces. A wonderful route for active recreation or picnic.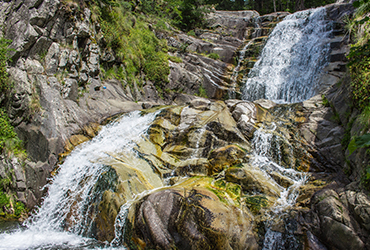 Several picturesque waterfalls near our estate offer incredible natural scenery, numerous hiking trails and are an attractive place for lovers of outdoor excursions, hunt and fishing.
Popina Luka waterfall is located along the Bashliitsa River. It is 12 meters high and 1230 meters above sea level. The area abounds in centuries-old coniferous forests, mixed with some deciduous species.
Skoka waterfall in the village of Kashina is one of the largest in the southern Pirin Mountains. It is about 20 meters high. When the water crashes into the rocks produces a fine water mist, which cools pleasantly in the hot summer days.
Don't miss the Smolarski waterfall, which is located in North Macedonia and is an impressive 40 meters high.