Culinary tour around Greece with Chef Evangelou
21.11.2018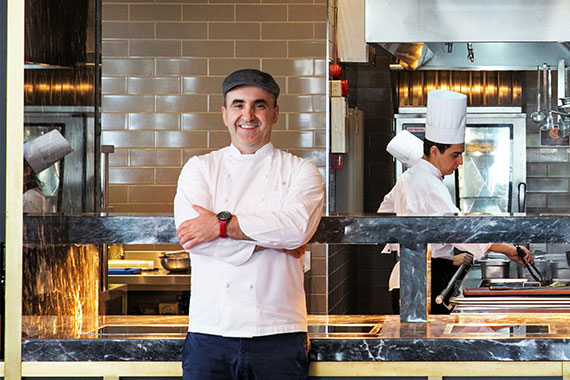 Zornitza Family Estate Relais & Châteaux and Makedonia Palace Hotel in Thessaloniki will celebrate the beginning of their partnership at the aEestivum restaurant on December 1. Sotiris Evangelou – Chef of Makedonia Palace will personally prepare a special menu that represents the new gastronomic identity of neighbouring Greece, and Chef Spasov will be hosting the event.
The multi-awarded Chef Evangelou who has been unfolding his range of skills in Greece for many years is now the curator of all the menus in the iconic and fully renovated five-star Makedonia Palace Hotel. His main philosophy is based on the uniqueness of the pure tastes of the Greek and Mediterranean cuisine, inspired authentic proposals with real first-class quality. Essentially, quality is in the center of Makedonia Palace's gastronomy identity in its new era.
Chef Evangelou himself points out that he is not an exponent of food's degradation, neither of the molecular cuisine or of those trends that confuse people who stand in front of a dish. "We refer to people who would be surprised by quality and taste and not by the looks of the dish. We strive for our uniqueness and authenticity to offer one of a kind gastronomy experience," he says.
The welcoming hosts of Zornitza Family Estate Relais & Châteaux have taken care of first-class wines, a cosy atmosphere and a lot of good emotions.
Restaurant aEstivum's guests will be able to immerse themselves in all Greek flavours – fresh shrimp, Santorini aubergine, delicious cheese Graviera from the island of Syros, smoked Feta cheese, Siphonos chickpea cream. And though it is the beginning of December, the young lamb in a clay pot with a sweet garlic cream and the dessert with the taste of chestnuts, orange and cherry will remind of the warm, holidaying spirit of our southern neighbour.
Join us on December 1 for a culinary tour around Greece at Zornitza Family Estate Relais & Châteaux's Restaurant aEstivum.
Check out the special Degustation Menu.